Scott Pettit, Owner and Operator of Pettit Bobcat Service began operating Bobcat tractors for his father's company, Leonard L. Pettit Concrete back in 1975. He had a natural talent on the machine and soon other contractors started asking Leonard if they could hire Scott and the tractor for work on their own job sites. Once Scott had a steady stream of contractors requesting work he began Pettit Bobcat Service officially in 1984.
In 1986, Scott married Daniele and she became the Secretary for the company. Scott and Daniele both are graduates from Torrance High School were Scott played volleyball and Daniele played soccer. Daniele is responsible for all office functions and acts as a liaison for clients who want to schedule work with Scott. Scott and Daniele are the proud parents of Amanda and Jeffrey. Both kids attended Narbonne High School in Harbor City, CA. Pettit Bobcat has donated services in the past to Lomita Little League, South Bay Girls Softball League and Narbonne High School. Jeff has begun working on the job sites with Scott as a Laborer and a Operator-in-Training to learn the business.
Pettit Bobcat's clients are 90% referrals from previously satisfied customers. Scott takes great pride in his equipment and job performance. Customers often say that his professionalism on their job site was exceptional. When his rig pulls up to a job site, his truck and tractor look clean and well maintained. Scott's knowledge of many aspects of the construction trade are a true asset to any homeowner or contractor. He understands what needs to be done and can assist in making crucial decisions which often saves the customer valuable time and money.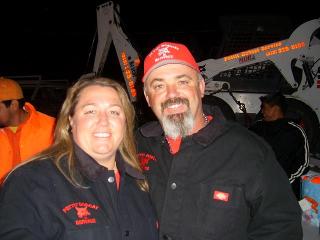 Scott and Daniele Pettit